Beautiful tile floors are a homeowner's dream. Whether they're located in your kitchen or bathroom, made out of ceramic, porcelain, or luxury vinyl tile, many find attractive (and durable!) tile the perfect flooring fit for their homes. While you may be so close to having your dream tile installed, it's likely that you'll still be left with a couple of questions, like: What colour grout should you get? How do you keep grout lines clean?
Borigni Grey Porcelain Emser Tile
In case you're unfamiliar, grout is used with tiles to fill the gaps between them. It's typically a mixture of water, cement, and sand. This reinforces the flooring itself while also giving it a sleek design. No matter what kind of tile you have, you will need to install grout with it to ensure that your floors look perfect and last longer.
While tile may be one of the best low-maintenance flooring options around, cleaning is still inevitable. Here are some tried-and-true tips on how to pick the right grout for you and how to keep your tile floors clean with as little stress as possible.
What is Grout?
Mystone Limestone Restile by Daltile
There are four main types of grout:
Sanded Grout
Sanded grout contains sand particles that give it incredible strength, so it's perfect for areas that get a lot of action, like your kitchen or bathroom. Notable for its resistance to shrinkage, staining, and moisture, sanded grout ensures lasting results and reduces maintenance efforts. With a wide range of colour options, ease of installation, and cost-effectiveness, sanded grout offers a long-lasting and aesthetically pleasing solution that stands up to daily wear and tear with ease.
Unsanded
Unsanded grout is a common choice, especially in bathroom projects, where it shines in filling those thinner joints between tiles. Unlike its coarse-textured counterpart, unsanded grout, as well as acrylic grout, is silky smooth, making it perfect for those tight nooks and crannies between tiles. If you're aiming for a polished, professional finish in spaces with slender grout joints, unsanded grout is your behind-the-scenes hero, making sure everything looks just right.
Furan
Unlike typical grout, furan is mixed with alcohol instead of water. Picture it as the fortress of grout; it's often used in more industrial spaces, since it is resistant to wear and tear, scratches, stains, and even those nasty chemicals. Whether you're in a factory or a busy kitchen, furan grout plays the role of a tough guardian, ensuring your surfaces stay strong and looking good.
Epoxy
This is the most expensive kind of grout, but for that extra cost, you get the most durable stuff out there. It is mostly used in wet areas like showers because it won't degrade over time and can even withstand harsh weather conditions if you have it outside. Epoxy grout is a wise and reliable choice that keeps your showers pristine and your outdoor spaces resilient, ensuring that your investment pays off in the long run.
Finding the Perfect Grout Colour
Regarding grout colour choices, you have a world of possibilities. You can opt to coordinate it with your existing floor tiles or go for a different approach. To make things easier on you, we recommend finding a close match rather than an exact match. To do that, look at the grout samples themselves rather than going off photos or the colours represented in the packaging.
The most popular colours of grout include white, black, grey, and brown, all of which come in a variety of shades. If you want to emphasize the tile pattern and keep the focus there, choose a contrasting, darker colour. If you have marble tile, try to pull a colour from one of the veins. If you're going for a subway look and already have the white tiles, go with black grout. If you're looking to tie your design together, choose a lighter colour like white or a similar shade.
When deciding between a dark or light hue, just remember to be aware of what aesthetic you want in your home and what you want to pull attention to in your floors.
Your Guide to Cleaning Grout
Alluro Cream Mini Palace Polished Mosaic by Emser Tile
Cleaning grout may not be the most glamorous task on your to-do list, but it's the secret to reviving the beauty of your tiled surfaces. Whether the bathroom grout has lost its sparkle or the kitchen backsplash has seen better days, knowing how to clean grout effectively can make a world of difference.
Seize the Spill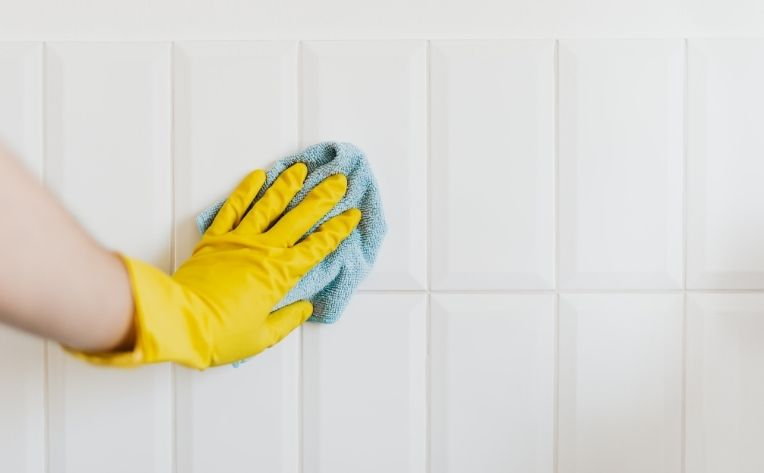 It may seem like common sense, but it's important to remember that a spill or mess needs to be cleaned up fast. With tile floors, regular maintenance is the biggest key to avoiding headaches down the line. Frequently cleaning your tile floors—first sweeping, then vacuuming, and occasionally mopping—means that you won't have to worry about stains setting into your tile or—even worse—your grout.
Glowing Grout Lines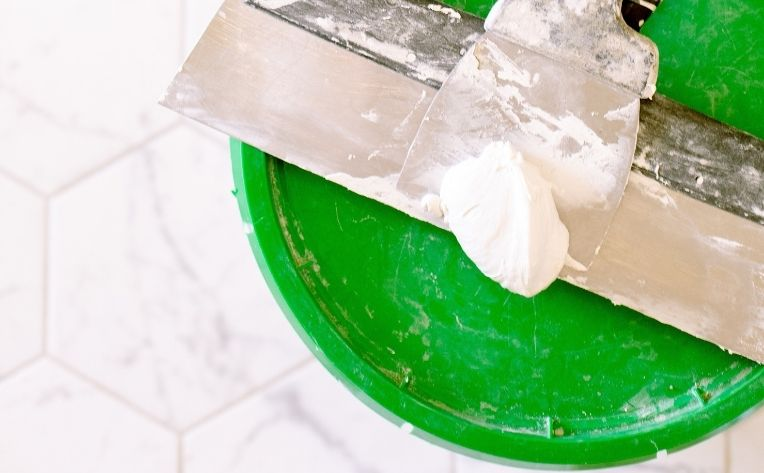 Speaking of grout, there's nothing like the sight of dirty grout to take the sheen off the beauty of your tile floor. Grout that hasn't been properly cleaned or maintained is a real eyesore, but it doesn't have to be that way. The answer? Sealant. Sealing your grout allows it to be resistant to those pesky stains.
Brush Your… Floors?
A great DIY grout cleaner involves mixing water and hydrogen peroxide in equal parts. Then grab a small grout brush (an old toothbrush is perfect) and scrub away. This simple method should work like a charm. (Though, of course, be sure to consult your Hard Surface Care & Warranty Guide before any cleaning of your tile floors.)
Homemade Clean
Speaking of DIY grout cleaner, lots of folks these days are into using homemade cleaners. Not only can they often be safer, but the DIY aspect of mixing up your own cleaner can be fun and inexpensive. A winning solution for a homemade cleaner for your entire floor needs is combining a cup of white wine vinegar with a gallon of water when you do your mopping. This mixture helps clean, naturally get rid of odors, and won't break the bank. (Again, for best results always refer to the manufacturer's cleaning instructions.)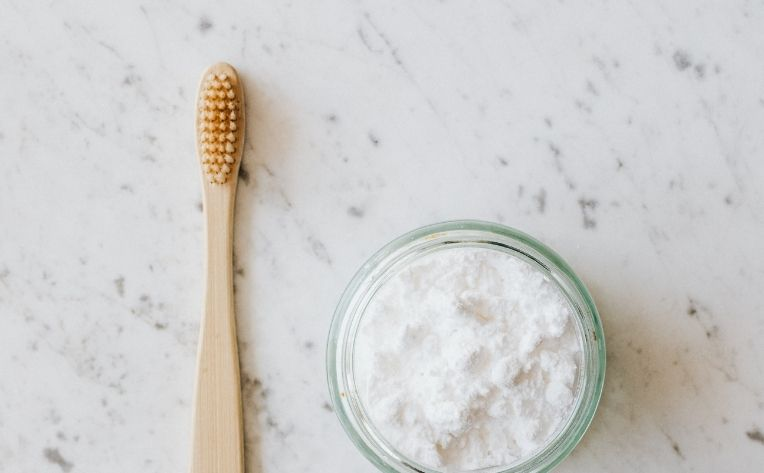 If it's too late and your grout is stained or dirty, with a little elbow grease, cleaning tile grout can be easy and successful. We suggest you use a manufacturer-recommended tile and grout cleaner, but for a DIY solution, consider using undiluted, distilled white vinegar or oxygen bleach. Extra baking soda also works wonders. With vinegar in a spray bottle, spray the grout with the vinegar and let it the mixture sit for 5–10 minutes before scrubbing with a brush. Once scrubbed, rinse the vinegar to reveal the beautiful white grout. Use the tile cleaner afterwards to remove the vinegar smell.
If using oxygen bleach, pour 4 tablespoons of it in powder form into a 2-gallon bucket of steaming water. Once dissolved, soak a cleaning towel in the solution and spread it on the grout. After letting it sit for 30 minutes, lightly scrub the grout with a brush and repeat from the beginning. Remove the solution with a clean cloth, and rinse the grout with hot water before wiping dry.
Marble or Stone Tile Flooring
If you own a home with marble or stone tile flooring, scratches can happen in some cases. Some types of tiles, especially natural stone, are more sensitive to cleaning agents than ceramic or porcelain tiles are, and many do not recommend DIY cleaners on these more sensitive surfaces. A more balanced pH cleaner from a product specifically made for marble or stone tile flooring is your best bet here.
How Do You Get Your Tile Grout White Again?
Grout can stain easily, so it's incredibly important to stay on top of cleaning to prevent a build-up of dirt, residue, grease, and soap. Grout on your tile surface can be cleaned and whitened no matter how bad it is, but just know that the longer you wait to clean it, the more elbow grease you'll need to use!
Is There An Easy Way to Clean Grout Tile Without Scrubbing?
For basic cleaning, you don't always have to utilize your old toothbrush or grout scrub brush. First, make sure to sweep or vacuum your surface. Next, mix a tile and grout line cleaner with water and apply it to the surface, letting it sit for 3-5 minutes. Then, agitate the surface with a mop or sponge, mop up the solution, and rinse with clean water. Lastly, make sure you dry mop the floor and wipe it dry.
How Best to Clean Tile Flooring... and More?
Now that you have some tips and tricks for how to clean tile and find your perfect grout colour match, why not think about sprucing up your kitchen or bathroom with some brand-new tile? Your local Flooring Canada has countless tile options for every budget and area of your home. Your brand new, low-maintenance and easy-to-clean floor awaits!